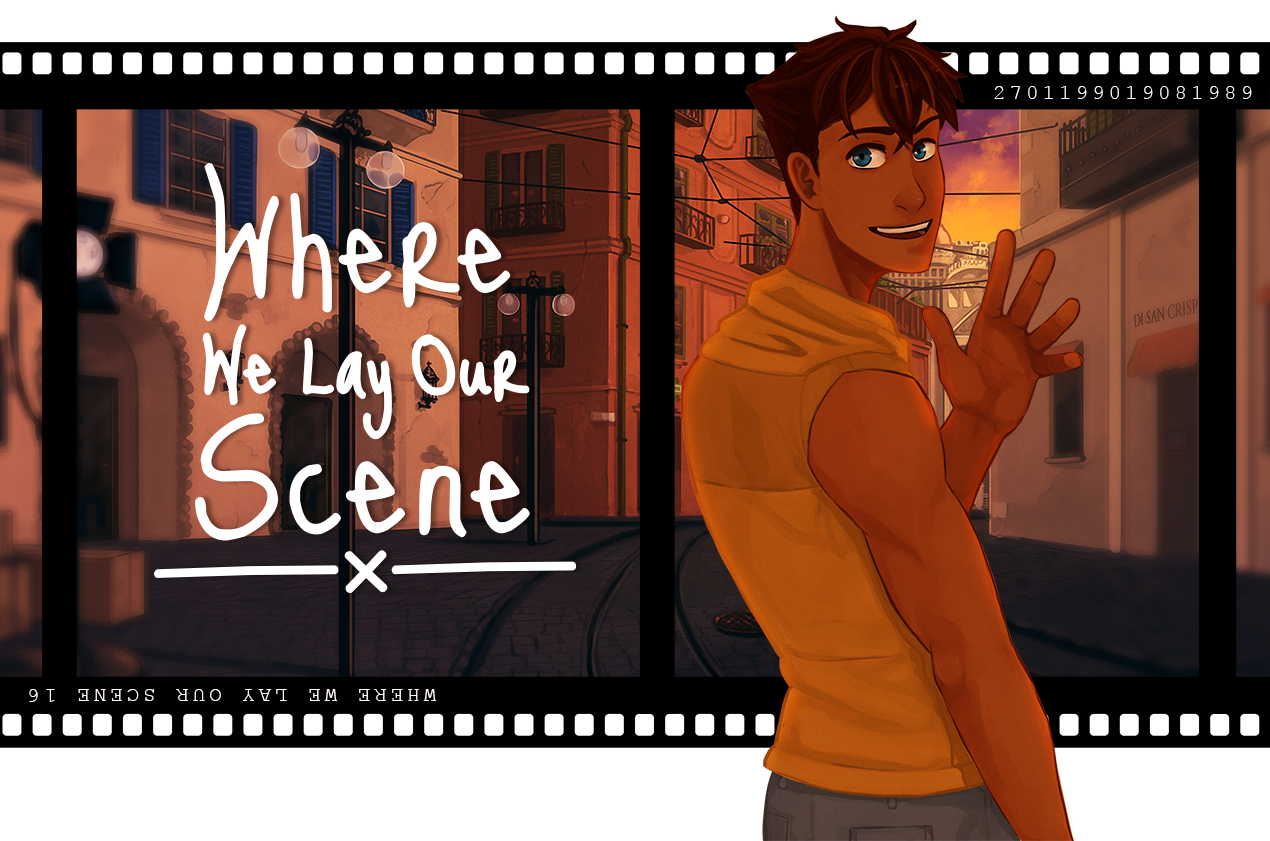 Where We Lay Our Scene is the latest visual novel by Cyanide Tea and was a project for NaNoRenO 2016. With four character routes and 13 different endings, it was an ambitious project, but you can tell from the very beginning that it was worth the effort. I want to highlight some things I really liked about WWLOS here:
All of the characters find themselves at some kind of crossroads in their lives and have to deal with certain issues concerning for example identity, profession, or a mixture of both. I'm sure many players will be able to identify with at least one of the characters, because the cast is extremely diverse. Not only do all of the characters have unique personalities, they also develop throughout the game and become realistic and palpable persons. Furthermore, the game features characters of different nationalities, sexualities, and body types.
The CGs fit to the tone of the respective character's route perfectly and although I wish there were more CGs, I feel like they summarize the essence of the depicted relationship. Speaking of art: I just knew Auro wouldn't disappoint! The art is top-notch; the sprites and backgrounds are detailed and we get to see the cast in many different outfits and poses, while the GUI looks nice and clean, making the game look very polished.
It was very easy for me to fall in love with Christian, Oliver, Sacha and Viola, because they all showed certain features I find in myself, and although Rainier's route wasn't as engrossing for me as the other routes, it only proves that the game offers something for every taste. Personally, I liked that the game tackles important topics while being fun and engaging – I think it's great for people who have to deal with similar problems in their lives, that they can identify with fictional characters and can take away something for their personal real life. There's no better way to learn something new, to become a better, more open-minded person while experiencing something in a fun way, because like Oscar Wilde already knew, "life imitates art".
"Christian Marino has become a household name, what with his face and body always visible when you open a magazine or look out your subway train window. But now famous model Christian Marino finds himself at a crossroads. What will he do with his life once his well-known and much-cherished looks fade? Is there even anything more to him below the surface that everyone else sees? As he considers these issues of future and identity, he's suddenly cast as the lead role in a film based on a bestselling novel. With fresh new challenges to face in an unfamiliar environment, this just might be the solution Christian was looking for—to more problems than one."
Do yourself a favor and play the demo of the game! With its $4.99 price tag it has a more than fair price. Also stay tuned for the upcoming Greenlight campaign, so the game can eventually be released on Steam.
Where We Lay Our Scene on itch.io